Udo`s Choice trip to France
Hi guys, this blog post is about Udo`s Choice trip to France, Bordeaux last year in November where I was official Great Britain judge at the World Championships in Natural Bodybuilding.
International competition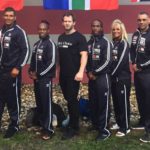 It all started with Jason Barnett when he contacted me and asked how am I related with Udo`s Choice. I told him that I am the Udo`s Choice distributor for Czech and Slovak Republic and that Flora is my sponsor for second year now. So we had a great idea about creating a small Udo`s Choice team who will be flying to France and representing Great Britain including me (note: I live in Prague, Czech Republic currently originally from Slovakia but I spent many years in UK).
Thank you Jason we have a great story to tell! A small Great Britain team of five people was selected to participate at the World Championships in Bordeaux, France and I was flying among them.
We were all connected by Udo`s Choice:
Martin Petro, Wnbf Pro Natural bodybuilder – I`ve been using Udo`s Oil for almost nine years now. I run my e-shop www.udoschoice.cz in Prague since 2015 and Flora Canada www.florahealth.com is my sponsor for second year now. I`ve seen Udo`s Oil Blend changing many people lives. It is amazing product and I always take it as a part of my daily diet.
Denton Wilson – Denton is a prostate cancer survivor. He is over 60 year old but he doesn`t look at all! He use Udo`s Oil regularly in his diet and he also believes that this is one of the main reason why he was successful at combating prostate cancer – eating the right and healthy foods.
Jason Barnett – 45 years old former World Champion is sponsored by Udo`s Choice and believes in benefits from this omega 3-6-9 oil. Jason is promoting healthy lifestyle to youngsters across the city and he also want to spread the idea about benefits of Udo`s Oil Blend.
Also joining them was former Royal Marine and 2017 British heavyweight champion Nick Adams and team manager Delroy Galloway, a multiple British and UK middleweight champion and winner at the World Fire fighters Games and PE teacher Caroline Oliver.
World Championships in Natural Bodybuilding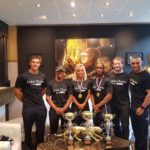 We were all representing healthy lifestyle and promoting not only Udo`s Choice but we wanted to show everybody that when eating the right and healthy food you can look incredible doesn't matter what age!
Great Britain team done very well with Jason placing 2nd in his class, Nick dominating his class and Caroline finished 4th and 5th in couples with Jason. Denton finished 3rd in masters category over 60 years old looking superb!
It was such a great weekend and pleasure to be part of this team. Me and Delroy we were two officials of GB team – Delroy as a coach and me as judge. I never saw any bodybuilding championships such as crowded as here in France! Well done to everyone for organizing such a great event and opportunity for athletes from all over the World to compete and share the stage and camaraderie. I am sure that memories will stay forever and will be cherished by each individual.
Especially big thank you to Julien Ryder for taking care of all the things you could imagine – from picking as at the airport to accommodating as in the hotel, Julien was playing a big part in this successful event. Julien is a very friendly, welcoming and charismatic man and he will make you feel welcome since the first time you`ll meet him.
Thank you Udo`s Choice and Flora for making things happen and this opportunity. Be healthy, be Flora healthy.
www.florahealth.com
www.coachmartinus.com