Flora's Digestive Enzymes are made with safe and effective enzymes your body needs and loves.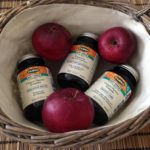 Flora's Enzymes – give your body's naturally occurring enzymes—like protease, lactase, and lipase—a boost when you need it  with Flora's Daily maintenance Digestive Enzymes.
Especially helpful for those with diets high in protein and fiber. This vegetarian formula can help provide relief from occasional heartburn, gas, bloating, and indigestion and help maintain the overall health of your digestive system.
Flora Digestive Enzymes – your new best friend.
With one to two capsules up to three times a day, you can beat bad digestion problems before they even start. More of a take-it-when-you-need-it person? Our enzymes are perfect for that as well. For a heavy meal, just take that additional capsule (three total) and say goodbye to the bloat and indigestion.
After all, there's nothing better than a cold drink and something hot off the grill!
Flora's Urgent care digestive enzymes
If it's not just summer BBQ you're worried about, go for the strong stuff with Flora's Urgent Care Enzyme, the most powerful enzyme blend Flora offers. Formulated for persistent digestive problems, our Urgent Care Enzyme can help reduce flatulence following a meal rich in fermentable carbohydrates, including legumes, beans, and more. They can even help prevent symptoms of lactose intolerance, such as gas, bloating, cramping, and diarrhea.
Whether it's the occasional enzyme to take when you need it or a stronger daily helping hand, the right digestive enzyme can help you sip and savor your favorite things by bringing relief to nagging food hangovers, naturally.
Enjoy your every day life with Flora's Digestive Enzymes. Eat healthy and clean and don't worry about digestion. Leave that to Flora's Digestive Enzymes!
Take your life and your health into your own hands and live the life you have imagined for yourself with health in mind.
www.florahealth.com
www.coachmartinus.com
www.udoschoice.sk