Super 8 plus probiotics
Flora's Super 8 plus probiotics was formulated to address yeast and "bad" bacteria overgrowth. With 8 strains of probiotic  and 42 billion live cells, it is one of the best product on the market today!
Super 8 plus probiotics is professionally formulated to provide man and women with the best and most effective probiotic support. Each strain used goes through an extensive process to ensure it's able to provide healthy bacteria for a balanced digestive system.
Be Flora Healthy
Eighty percent of our immunity comes from our gut, and women tend to require an even higher number of probiotics than men. Flora created a probiotic blend with a 42 billion live cells at the time of manufacture—and 25 billion by the time of expiry.
This isn't just any probiotic.
Flora's Super 8 plus probiotic is 15 years & older award-winning blend of high-potency 'friendly' bacteria to maintain healthy feminine flora, as well as protect all travelers from yeast and unfriendly bacteria.
Eight human-adapted medicinal strains of live probiotics with the highest survival/colonization rates and no transient strains.
Minimum 42 billion viable cells per capsule at manufacture and gluten- and corn-free, non-GMO. Just take 1-3 caps daily, with or after meals for the best results.
Always store in fridge or freezer for maximum potency and stability of live bacterial cells.
This formula is made with health in mind. It contains a high concentration Lactobacillus acidophilus, a strain of powerful bacteria that has been shown to support healthy yeast balance.
Still need convincing? Flora's refrigerated probiotics are comprised exclusively of non-GMO strains of bacteria. You can rest assured you're putting the best quality product into your most precious possession: your body.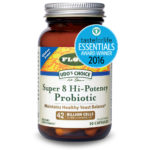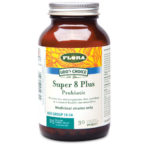 Flora Probiotic Blends are unique in that they've been developed to survive the stomach acids so that they can be as effective as possible when they reach the intestinal tract.
Make a difference in your digestion and vaginal health by introducing Super 8 plus probiotics into your daily regimen!
www.florahealth.com
www.coachmartinus.com