Ingredients
Certified Organic, Udo's Oil is seed oil warmly formulated to contain the perfect 2:1:1 ratio of Omega 3, 6 and 9 fatty acids. It is also the richest vegetarian source of Omega acids available in Czech Republic. These wondrous essential fatty acids play an important role in skin, joint, brain and heart health to help you look and feel amazing, inside and out.
Udo's Oil combines only the very best natural ingredients:
Flax seed oil
Sunflower seed oil
Sesame seed oil
Coconut oil
Evening primrose oil
Soy lecithin (GMO-free)
Rice bran and oat bran germ oils
Mixed Tocopherols
Documented benefits include softer, silkier skin and hair, greater suppleness in the joints, better mood and energy levels and reduced symptoms of PMS and menopause. Meanwhile users report a certain satisfaction that comes with simply great health.
Udo's Oil is also safe and advisable to use during pregnancy and breast feeding.
How to use?
Enjoy a drizzle of Udo's Oil in salad dressings, smoothies, soups, casseroles, porridge, pasta dishes, mashed or baked potatoes, protein shakes and more. Or simply enjoy it straight off the spoon; it has a pleasant, nutty flavor.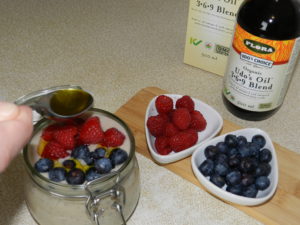 How much should I take?
As a guideline take one dessertspoon for every 50lbs (25kg) of body weight. But everyone is different and many users experience great results taking less than the guideline amount.
Remember Udo's Oil is delicious when added to warm food, but don't cook with it as high temperatures destroy the delicate EFAs. Udo's Oil should be kept refrigerated at all times.
Once opened keep it in the fridge, preferably still in the box, as it will remain fresh for up to eight weeks if stored in this way. You can also freeze Udo's Oil for up to two years with no loss of flavor or benefit. Oils contract when they freeze, so the bottle won't break even if full.
Our capsules Udo`s Oil 3-6-9 Blend ( now on SALE! ) are also a convenient alternative for those on the move or going on holidays. Take 2-6 capsules daily with meals.
Martin Petro WNBF Pro
www.florahealth.com
www.udoschoice.cz
www.martin-petro.blogspot.cz